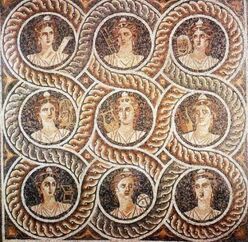 The Muses were daughters of
Zeus
, the second generation king of the gods, and the offspring of Mnemosyne, goddess of memory.
The Muses judged a contest between Apollo and Marsyas. They also gathered the pieces of the dead body of Orpheus, son of Calliope, and buried them. They blinded Thamyris for his hubris in challenging them to a contest.
There are nine Muses:
Calliope
Clio
Erato
Euterpe
Melpomene
Polyhymnia
Terpsichore
Thalia
Urania
Ad blocker interference detected!
Wikia is a free-to-use site that makes money from advertising. We have a modified experience for viewers using ad blockers

Wikia is not accessible if you've made further modifications. Remove the custom ad blocker rule(s) and the page will load as expected.