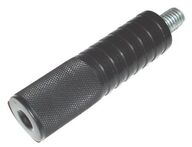 A gun attachment only for bullet-fire weapons. The device is attached to the tip of the gun barrel. It's design causes the loud sound of a gun-fire to beccome extremely quiet.
It is best used for snipers or other soilders who require a low-profile.
Ad blocker interference detected!
Wikia is a free-to-use site that makes money from advertising. We have a modified experience for viewers using ad blockers

Wikia is not accessible if you've made further modifications. Remove the custom ad blocker rule(s) and the page will load as expected.