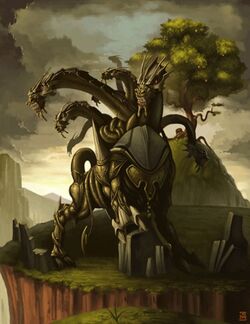 The Garden of the Hesperides
is
Hera's
orchard in the west, where there is a single tree on which golden apples grow.
The apples were planted from the fruited branches that Gaia gave to her as a wedding gift when Hera accepted Zeus. The Hesperides were given the task of tending to the grove, but occasionally plucked from it themselves. Not trusting them, Hera also placed in the garden a never-sleeping, hundred-headed dragon named Ladon as an additional safeguard.
Ad blocker interference detected!
Wikia is a free-to-use site that makes money from advertising. We have a modified experience for viewers using ad blockers

Wikia is not accessible if you've made further modifications. Remove the custom ad blocker rule(s) and the page will load as expected.